Match Day 1 is fast approaching as the new season of the E-League begins on Saturday 15 February 2020 at ESL Studios in Auburn, Sydney.
TICKETS: Get your tickets for Match Day 1 of E-League 2020
READ: Huawei Funds Free Public Transport For Wellington Phoenix Match At Eden Park
WATCH LIVE: Sign Up To Sky Sport Now (NZ) and Watch ALL Home and Away Hyundai A-League Games!
The revamped format for this year's EA SPORTS FIFA 20 Global Series event means the stakes are even higher as 11 rounds will be crunched into two intense match days at ESL Studios in Auburn, Sydney.
Wellington Phoenix will be bringing the fight to Australia this year, with the best in New Zealand representing the club at the competition. New recruits, Tundra HoneyBadger and airbrn_ will be hoping to bring the E-League title back to Wellington for the fist time since its inception in 2018.
The outcome of the season opener will contain Rounds 1-6 with all 11 Hyundai A-League clubs to going at it again on Saturday, 7 March for Round 7-11 – back at ESL Studios – to battle for the Premiership and a place in the E-League 2020 Finals Series in Melbourne on Saturday, 9 May.
With E-League 2020 serving as a qualifier for the FIFA eWorld Cup, the prize is bigger than ever before. The E-League 2020 Champion collects 450 Global Series points, 200 points more than last year's title winners.
Do not need to miss a moment of action, even if you cannot make it to Sydney. Every match is streamed live on Twitch.tv.
Here are the Playstation 4 and Xbox One competitors bidding to be crowned the E-League 2020 Champion: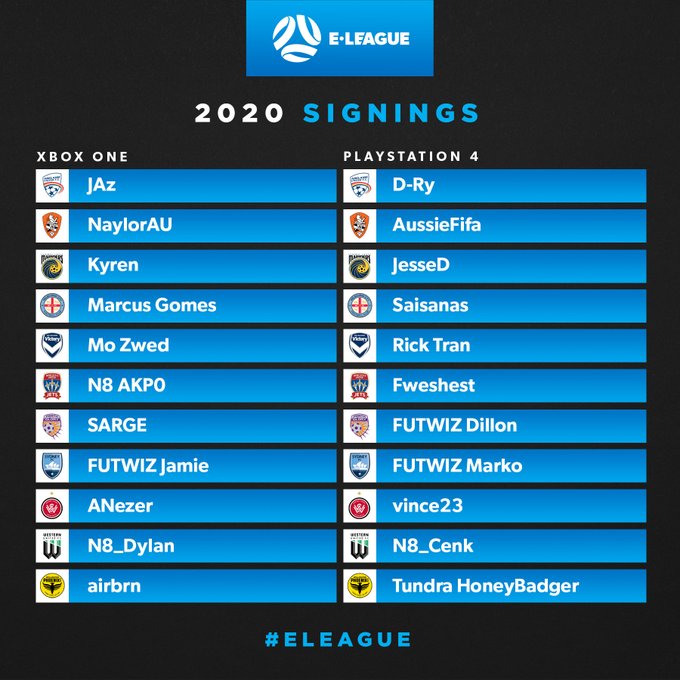 Match Day 1
The first six rounds take place at the kick-off event – Match Day 1 – on Saturday, 15 February:
Round 1 – From 10.00am
Brisbane Roar v Wellington Phoenix

Round 2 – From 11.20am
Wellington Phoenix v Adelaide United

Round 3 – From 12.40pm
Melbourne City FC v Wellington Phoenix

Round 4 – From 2.00pm
Wellington Phoenix v Central Coast Mariners

Round 5 – From 3.20pm
Newcastle Jets v Wellington Phoenix

Round 6 – From 4.40pm
Wellington Phoenix v Melbourne Victory
All matches throughout the E-League 2020 Season and E-League 2020 Finals Series will once again be streamed on twitch (www.twitch.tv).
And you can also keep up to date on social media, follow us:
WPX E-sports Twitter (@WPXeSports | twitter.com/WPXeSports)
Wellington Phoenix Instagram (@wellingtonphoenix | instagram.com/wellingtonphoenix)
Wellington Phoenix Facebook (Wellington Phoenix FC | facebook.com/wellingtonphoenixfc).